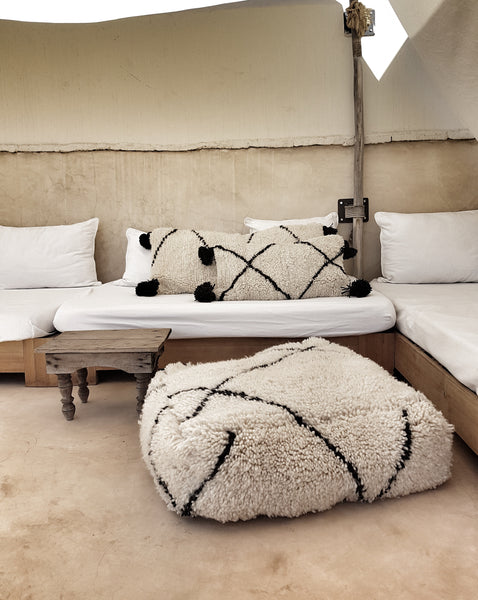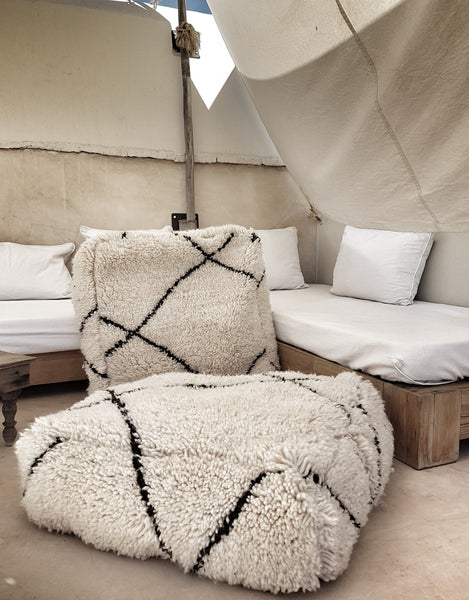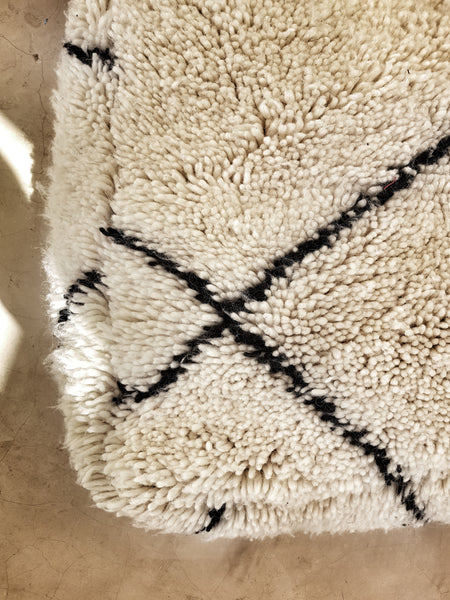 beni ouarain floor pouf
Beni Ouarain poufs and pillows are perfect for sit back in your chill out lounge and give your interior a relaxed and cozy atmosphere.
The Beni Ouarain are a group of different berber tribes established in the Atlas Mountains in Morocco. The Beni Ouarain rugs were traditionally used as a warm cape to protect themselves from the cold Winter. These gorgeous rugs have the fascinating ability to connect the long history of the nomadic tribes and their roots with bohemian modern interiors in western homes. These weavings of silent stories hand knotted from pure wool by berber women are an expression of their beliefs, conceptions and daily life. They are made from natural undyed wool, so you could find some differences in color depending the wool color of each sheep.
MATERIAL: 
natural wool.
COLOR:
black and white.
SIZE:
60x60x20 cm, 24x24x8
 inches
CONDITION: 
Vintage piece in excelent conditions, but please note that it could have some little irregularities which are an inherent part of the beautiful character of these blankets.
CARE: 
dry clean or set the washing machine to wash and rinse on cold water.

;

Transforma tu hogar en un espacio cálido y confortable con estos pouf de lana natural. Selecciono personalmente cada alfombra vintage bereber para crear estos almohadones y pouf Beni Ouarain.
Los Beni Ouarain son un grupo formado por 17 tribus bereber de las montañas del Atlas en Marruecos. Las alfombras que tejían estas tribus eran utilizadas tradicionalmente como capas o mantas para protegerse del frío invierno en el Atlas. Estas impresionantes alfombras hoy tienen la capacidad de conectar la larga historia de las tribus nómadas y sus raíces con hogares bohemios en occidente. Cada nudo de lana anudado por las mujeres bereber de la tribu son una expresión silenciosa de sus creencias, historia y vivencias. Cada pieza es elaborada con lana natural sin teñir por lo que podrás encontrar pequeñas variaciones de color dependiendo de la lana de cada oveja.
MATERIAL: 
lana natural
COLOR:
blanca y negra
TAMAÑO:
60x60x20 cm, 24x24x8 inches
CONDICION:
Pieza vintage en excelentes condiciones, debido a que se trata de una pieza antigua puede presentar alguna pequeña irregularidad que la hace todavía más bella.
CUIDADO:
limpieza en seco o a máquina con agua fría.