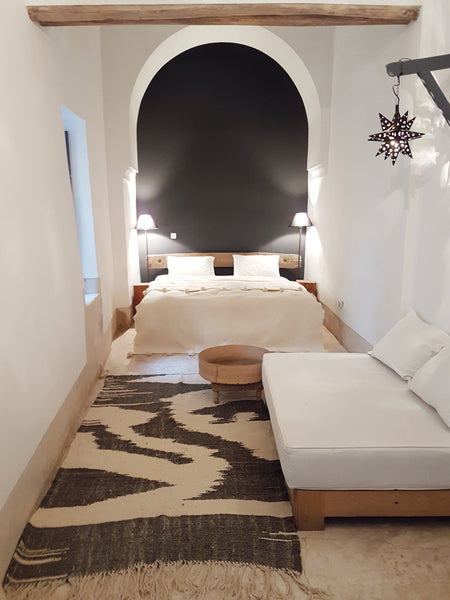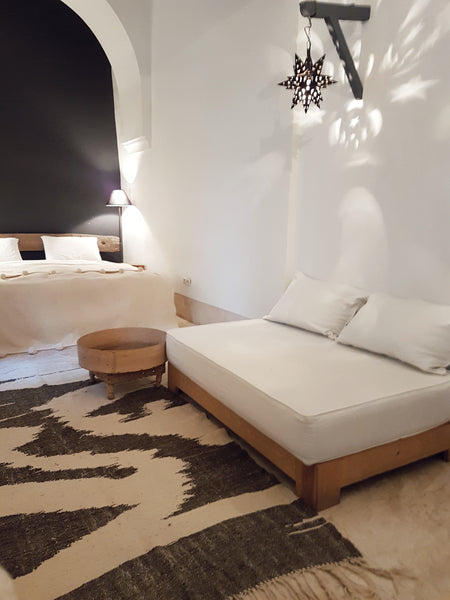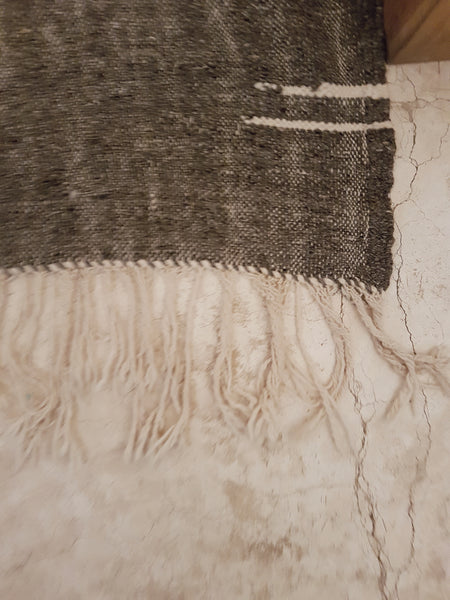 beni ouarain rug earth 250x130 cm
Take your shoes off and enjoy the warm feeling of pure wool under your feet.

Every rug is handmade and unique following ancient techniques to create one-of-a-kind pieces.

The history of Moroccan rugs dates as far back as the Paleolithic in the Atlas Mountains. The designs and motifs of each rug are a doorway into the past, an evocative symbolic language passed down from generation to generation. Hand woven and knotted by the women of the tribe, each rug can take up to a year to complete. Each carpet carries the weaver's desire to protect the human spirit from negative energy and shield the human body from the elements. Whether we lay them on our floors or hang them on our walls, these story-filled pieces of art become talismans for our everyday lives.

Vintages pieces in good conditions like this stunning rug are really difficult to find and that's why I personally hand pick each piece to offer you the finest quality.
MATERIAL: 
natural wool.
COLOR:
earth tones
SIZE:
250x130 cm, 
98x51
 inches
CONDITION: 
Vintage piece in excelent conditions, but please note that it could have some little irregularities which are an inherent part of the beautiful character of these blankets.
CARE: 
dry clean or set the washing machine to wash and rinse on cold water.

;

Descálzate y siente la cálida sensación de la pura lana bajo tus pies.

Cada alfombra está tejida a mano creando una pieza única siguiendo técnicas que se transmiten de generación en generación.

La historia de las alfombras en Marruecos nos traslada hasta tiempos del paleolítico en las montañas del Atlas. Los diseños y motivos de cada una de ellas son una puerta al pasado, un lenguaje de símbolos que se ha transmitido de generación en generación. Las mujeres de la tribu pasaban hasta un año tejiendo y anudando el tejido de cada alfombra. Cada pieza lleva consigo el deseo de proteger nuestro espíritu de malas energías y de los elementos de la naturaleza. Extendidas en el suelo o colgadas de la pared, estas piezas llenas de historia son auténticos talismanes para nuestro hogar.

Para ofrecerte la mejor calidad viajo a Marruecos y selecciono personalmente cada alfombra para ofrecerte piezas en perfecto estado.
MATERIAL: 
lana natural
COLOR:
tonos tierra
SIZE:
250x130 cm, 98x51 inches
CONDICION:
Pieza vintage en excelentes condiciones, debido a que se trata de una pieza antigua puede presentar alguna pequeña irregularidad que la hace todavía más bella.
CUIDADO:
limpieza en seco o a máquina con agua fría.