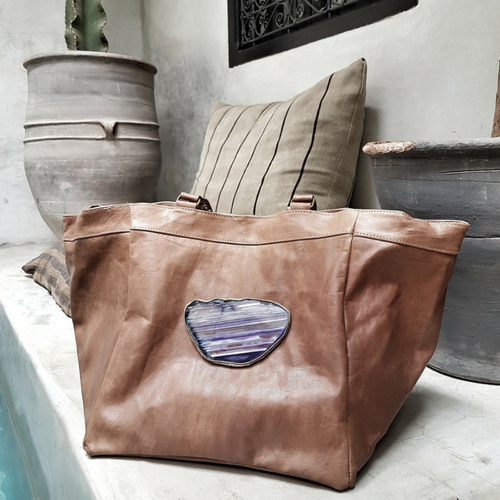 leather bag sahar
Unique bag made with unique stones extracted in Brazil and crimped in Morocco. They are a jewel, each model is unique. Hopefully we have managed to capture all the energy of the stones in every stitch and crimp.
Natives considered these stones as pieces of the body of the gods, full of organic and spiritual vitality. An open window to the world of the gods.
We have created very few pieces, it has been a laborious process, but the new bags are superb. I hope you like them as much as I do.
MATERIAL: soft leather
COLOR: natural
SIZE: 42x30 cm, 16x12 inches
CARE: you can clean it with a damp cloth and neutral soap.
;
Este bolso está elaborado con piedras únicas extraídas en Brasil y engarzadas en Marruecos. Son una joya, cada modelo es único. Ojalá hayamos conseguido captar toda la energía de las piedras en cada puntada y engarce.
Los indígenas consideraban a las piedras de Agata como pedazos del cuerpo de los dioses, llenas de vitalidad orgánica y espiritual. Una ventana mágica abierta al mundo de los dioses.
Hemos creado muy poquitas piezas, ha sido un proceso laborioso, pero el resultado ha sido espectacular. Espero que os gusten y que pronto tenga que hacer lo imposible por encontrar nuevas piedras para engarzarlas en una nueva partida de bolsos.
MATERIAL: piel suave
COLOR: natural
TAMAÑO: 42x30 cm, 16x12 inches
CUIDADO: puedes limpiarla con un paño húmedo y jabón suave