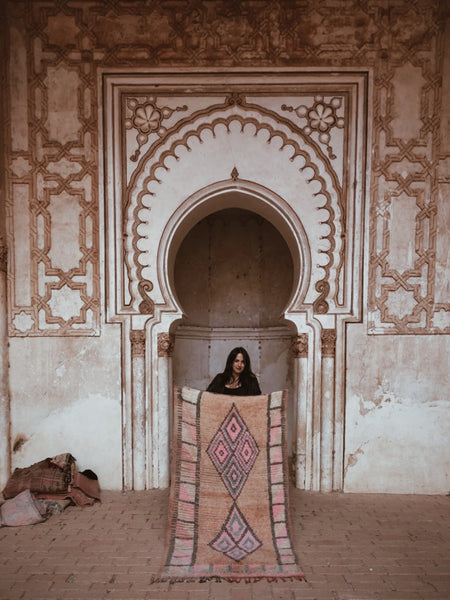 moroccan berber rug imlil
Moroccan rug handmade in the mountains of the Ourika valley in Morocco.

This unique piece is hand knotted by women in bright colors and patterns creating a beautiful mixture of traditional Berber symbols with personal creativity. It is made of pure organic wool and cotton.

Vintages pieces in good conditions like this stunning rug are really difficult to find and that's why I personally hand pick each piece to offer you the finest quality.
MATERIAL: 
natural wool.
COLOR:
pink pattern.
SIZE:
please ask me for the exact size
CONDITION: 
Vintage piece in excelent conditions, but please note that it could have some little irregularities which are an inherent part of the beautiful character of these blankets.
CARE: 
dry clean or set the washing machine to wash and rinse on cold water.
;

Alfombra tejida a mano en las montañas del valle de Ourika en Marruecos.

Las mujeres de las montañas son quién tejen las alfombras siguiendo la técnica del anudado, en cada pieza mezclan símbolos tradicionales bereber con motivos más modernos y en colores vivos. El material utilizado es pura lana orgánica y algodón.

Encontrar piezas vintage en buen estado es cada vez más complicado, por eso cada pieza está seleccionada personalmente para ofrecerte alfombras de la mejor calidad.
MATERIAL: 
lana natural
COLOR:
blanca y negra
TAMAÑO:
ponte en contacto conmigo para saber la medida exacta
CONDICION:
Pieza vintage en excelentes condiciones, debido a que se trata de una pieza antigua puede presentar alguna pequeña irregularidad que la hace todavía más bella.
CUIDADO:
limpieza en seco o a máquina con agua fría.