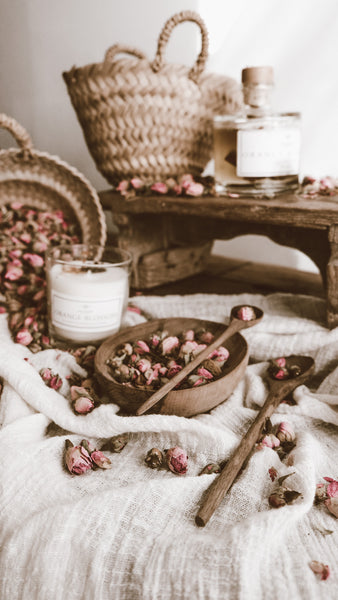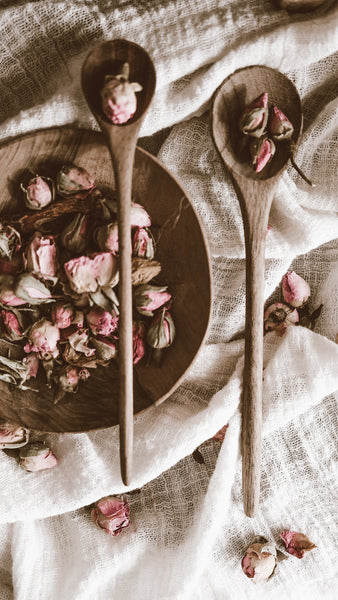 Orange Blossom home fragrance and candle - perfume hogar y vela perfumada
Curated home pack to make your place a sacred place with a delicate fragrance. 
Orange Blossom is a spicy, sweet and fresh scent which stimulates your good energy and mood. Citrus zests are combined with the delicate sweetness from the orange blossom. 

It's excellent to create a refreshing and uplifting ambience, to boost your energy and gain mental clarity. We added hints of citrus flavouring extracted from the Bergamot fruit which is crisp, clean and juicy with a subtle floral note. A delicate perfume that will take you back to your beautiful and calming moroccan Riad in Marrakech. 
Every home pack contains: 
Orange Blossom home perfume 200 ml using natural almond oil as base

Orange Blossom scented candle made from natural ingredients
HOW TO USE: Place the natural sticks in the perfume bottle to enjoy a delicate fragrance, if you wish the perfume to be a little more intense, simply turn the sticks. The perfume lasts up to 3 months. 
Discover the complete oils and perfumes collection here. 
;

Delicada caja regalo para hacer de tu casa un hogar con una delicada y fragancia natural elaborada a partir de ingredientes naturales. 
Orange Blossom es una fragancia picante, dulce y fresca que estimula tu estado de ánimo y energía. Las cáscaras de cítricos se combinan con la delicada dulzura de la flor de azahar.

Es excelente para crear un ambiente refrescante y estimulante, para aumentar su energía y ganar claridad mental. Agregamos notas de sabor cítrico extraído de la fruta bergamota que es crujiente, limpia y jugosa con una sutil nota floral. Un delicado perfume que te hará viajar hasta el patio de tu Riad en Marrakech.
Cada pack contiene: 
Orange Blossom fragancia de hogar 200 ml usando aceite de almendra como base

Orange Blossom vela perfumada con ingredientes naturales
COMO USARLO: Coloca los palitos en la botella de la fragancia para disfrutar de un aroma delicado, si quieres un perfume más intenso simplemente dale la vuelta a los palitos. El perfume dura unos 3 meses. 
Puedes ver la colección completa de perfumes y aceites aquí.