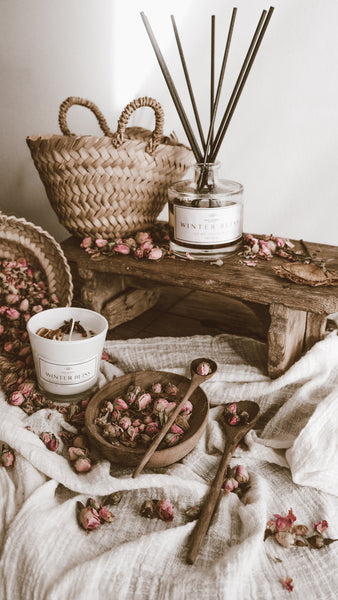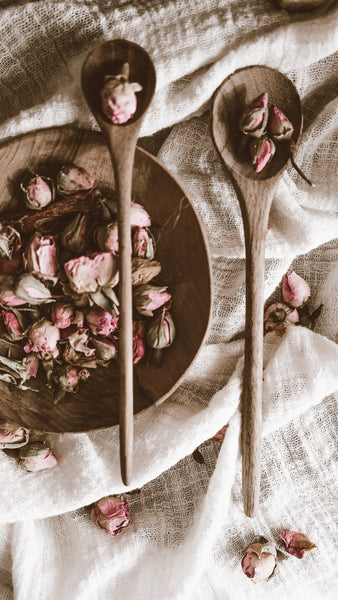 Winter Bliss home fragrance and candle - perfume hogar y vela perfumada
Curated home pack to make your place a sacred place with a delicate fragrance. 
Winter Bliss is a rich, warm, festive scent layered with a spiced base of Cedarwood and Cassia. Middle notes of Clove, Nutmeg and Pine, are topped with hints of Lemon, Orange and Peppermint to produce a scent that encapsulates the sweetness of winter. Perfect for cozy, warm winter nights at home, in front of the fireplace with a glass of red wine...
Every home pack contains: 
Winter Bliss home perfume 200 ml using natural almond oil as base

Winter Bliss scented candle made from natural ingredients
HOW TO USE: Place the natural sticks in the perfume bottle to enjoy a delicate fragrance, if you wish the perfume to be a little more intense, simply turn the sticks. The perfume lasts up to 3 months. 
Discover the complete oils and perfumes collection here. 
;

Delicada caja regalo para hacer de tu casa un hogar con una delicada y fragancia natural elaborada a partir de ingredientes naturales. 
Winter Bliss es una fragancia rica y cálida con capas de una base especiada de madera de cedro y casia. Notas medias de clavo, nuez moscada y pino, rematadas con toques de limón, naranja y menta para encapsular en un perfume la dulzura del invierno. Perfecto para las cálidas y acogedoras noches de invierno en casa, frente a la chimenea con una copa de vino tinto...
Cada pack contiene: 
Winter Bliss fragancia de hogar 200 ml usando aceite de almendra como base

Winter Bliss vela perfumada con ingredientes naturales
COMO USARLO: Coloca los palitos en la botella de la fragancia para disfrutar de un aroma delicado, si quieres un perfume más intenso simplemente dale la vuelta a los palitos. El perfume dura unos 3 meses. 
Puedes ver la colección completa de perfumes y aceites aquí.